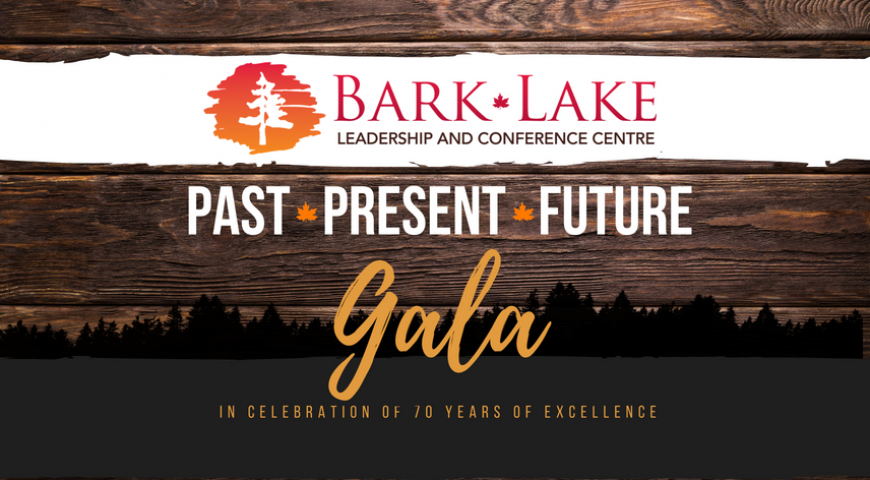 70th Anniversary Gala
Bark Lake Leadership and Conference Centre cordially invites you to join us for our 70th Anniversary Gala. Come and walk down memory lane, share stories and meet up with some old and new friends. This event will be a night to remember, as we celebrate the Past, Present and Future of Bark Lake.
Date:
Saturday, October 13th, 2018
Where:
Bark Lake Leadership and Conference Centre
1551 Bark Lake Drive, Irondale ON
Google Map to the start of the driveway (opens in a new window)
Dress:
Semi-Formal
Ticket Cost:
$70 per person
$400 per table – 6 people (Save $20.00 + two bottles of wine)
Evening Itinerary:
5-6pm – Cocktail Hours – $5 cash bar (Silent Auction opens) – Dining Hall
6-7pm – Buffet Dinner – Dining Hall
7:30- 9pm – Dessert, Slide show and Speeches (Silent Auction closes) – Dining Hall
9:00- 10:30pm – Evening Entertainment – Dining Hall
10:30- 11pm – Campfire – Canoe Beach
Auction Items:
If you have an item that you wish to donate to Bark Lake for our Auction please let us know at time of booking. All money made from the Bark Lake Gala Auction will be going toward a new High Ropes Challenge Course and a commemorative plate will be erected to honor the 70th Year Gala participants.
Add-on's
Accommodations:
Camper Package – Re-live the lifestyle as a camper at Bark Lake, stay a night or two in a cabin with your friends. Bunk bed style cabins, bring your own sleeping bag and pillow. (Maple Section, Tam Lodge & Dorm) – $40 per person/night.
Director's Package (limited space) – Share a cottage with friends and laugh about the memories you had. Each Cottage will have a full kitchen, seating area, great view and bedding is included. (Point Cottage, Maple Cottage, Tam Cottage) – $60.00 per person/night (min of 4 people)
Sunday Breakfast – $14.00 (plus HST)
To Book your Gala Tickets:
Please call Bark Lake at 888.517.9999
_____________________________________________________________________________
WANT TO MAKE A WEEKEND OF IT?
October 14th, 2018:  2nd Annual Autumn Social (opens in a new window)
October 14th, 2018:  Traditional Aboriginal Drum Making Workshop (opens in a new window)